Mesa West now also has Telemedicine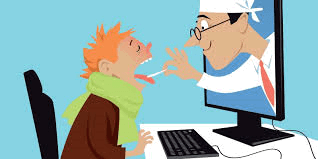 Since the
COVID-19
has changed our lives for now as we know it. Mesa West Medical has initiated Telemedicine to supplement our in person clinic visits. We will be converting many of the scheduled in person appointments (if appropriate) to virtual clinic visits. During office hours, we can be reached via the phone (661)829-7677 and through our telemedicine site at
https://mesawest.doxy.me/website
or clicking on
Enter waiting room
below.Our goal to keep all patients safer during this pandemic.
Apple releases new COVID-19 app and website based on CDC guidance

Tools Offer Up-to-Date Guidance and Information for People Across the US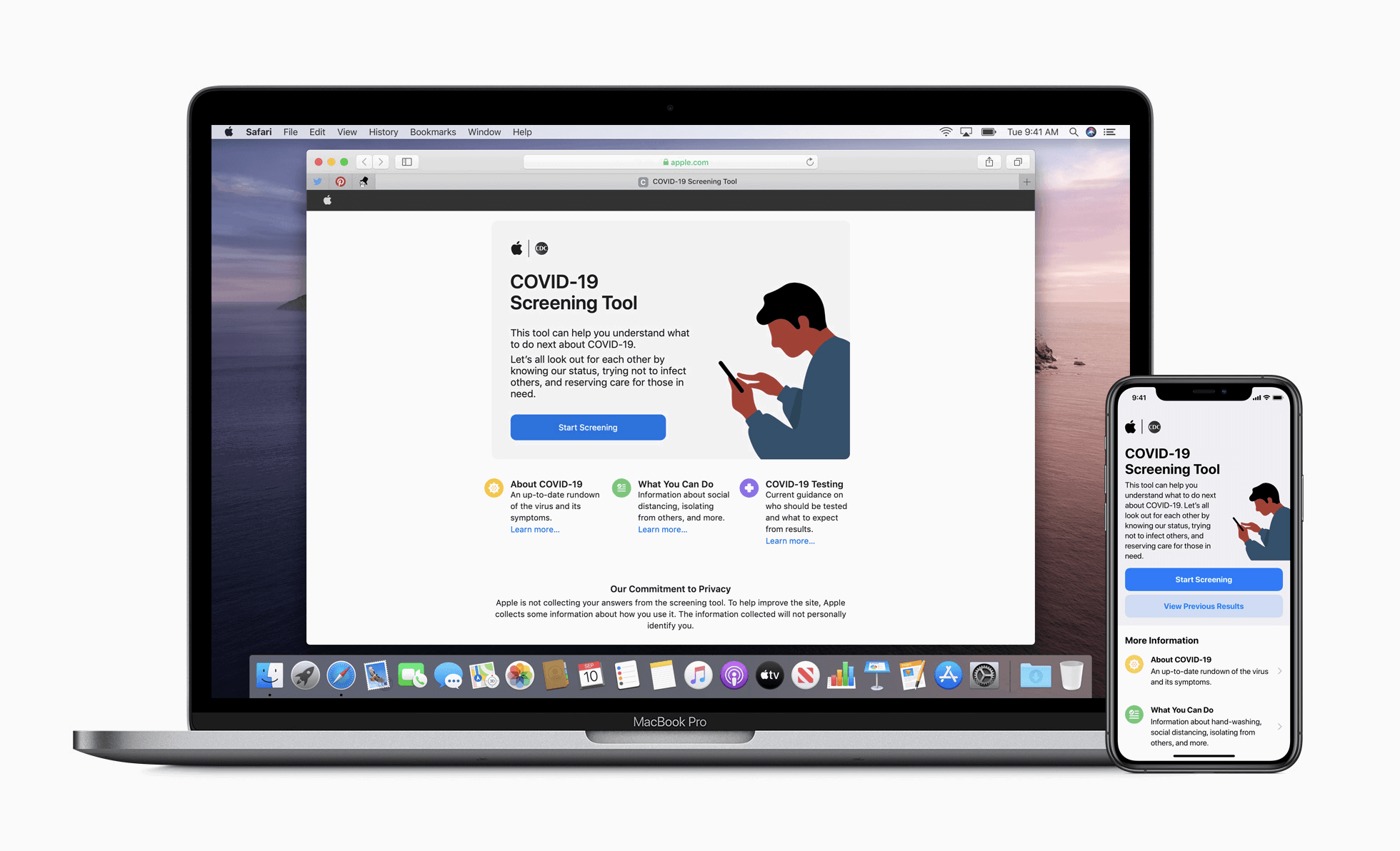 The new COVID-19 app and website provide the latest information and guidance from the CDC for users across the US.Apple today released a new screening tool and set of resources to help people stay informed and take the proper steps to protect their health during the spread of COVID-19, based on the latest CDC guidance. The new COVID-19 website, and COVID-19 app available on the App Store, were created in partnership with the CDC,1 the White House Coronavirus Task Force and FEMA to make it easy for people across the country to get trusted information and guidance at a time when the US is feeling the heavy burden of COVID-19.
The COVID-19 app and website allow users to answer a series of questions around risk factors, recent exposure and symptoms for themselves or a loved one. In turn, they will receive CDC recommendations on next steps, including guidance on social distancing and self-isolating, how to closely monitor symptoms, whether or not a test is recommended at this time, and when to contact a medical provider. This new screening tool is designed to be a resource for individuals and does not replace instructions from healthcare providers or guidance from state and local health authorities.
The app and website also offer access to resources to help people stay informed and get the support they need. Users will receive answers to frequently asked questions about COVID-19, including who is most at risk and how to recognize symptoms. In addition, they will learn the most up-to-date information from the CDC like best practices for washing hands, disinfecting surfaces and monitoring symptoms.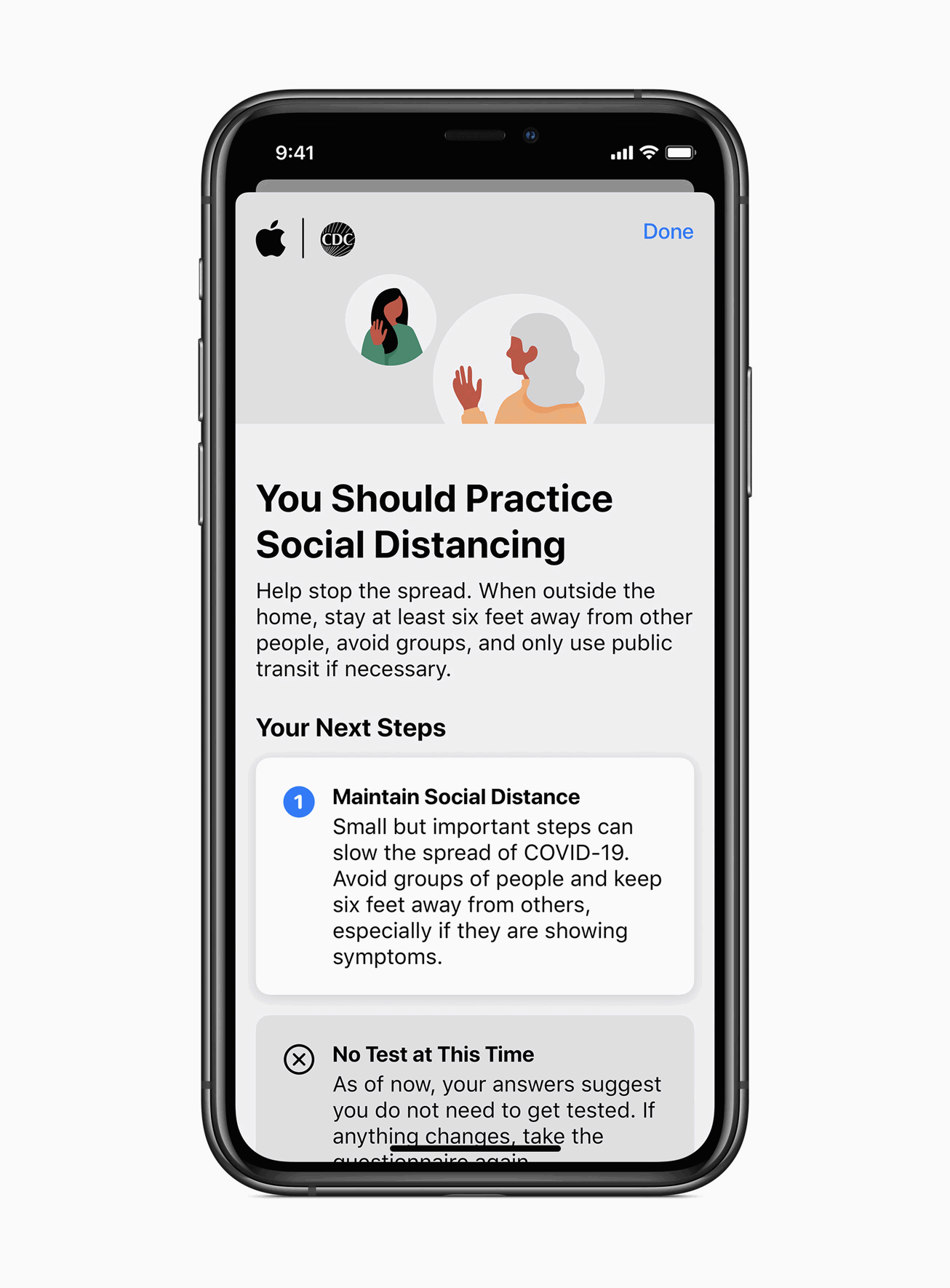 Users can answer a series of questions around risk factors, recent exposure and symptoms in order to receive CDC recommendations on next steps. They can also access a set of resources from the CDC to help them stay informed and get the support they need.Along with the new COVID-19 app and website, customers across the US may also ask Siri, "How do I know if I have coronavirus?" to access guidance and resources from the CDC and a curated collection of telehealth apps available on the App Store. This week, travelers landing at select international airports throughout the US started receiving notifications on their iPhone to remind them of current CDC guidance to stay home and monitor their health.
Consistent with Apple's strong dedication to user privacy, the COVID-19 app and website were built to keep all user data private and secure. The tools do not require a sign-in or association with a user's Apple ID, and users' individual responses will not be sent to Apple or any government organization.
Anyone in the US who is 18 years or older can access the screening tool and resources today by downloading the COVID-19 app on the App Store or visiting apple.com/covid19.
https://www.apple.com/newsroom/2020/03/apple-releases-new-covid-19-app-and-website-based-on-CDC-guidance/
7 Wellness Tips During Social Distancing
By
Karon Warren

https://www.healthgrades.com/conditions/7-wellness-tips-during-social-distancing?cid=63emHLNCOVID
The 2020 coronavirus pandemic is forcing people into a new, but temporary, way of life known as "social distancing." Social distancing means increasing the physical space between people to help prevent spreading illness. Currently, the recommended distance is at least 6 feet.
But social distancing does not mean total isolation. For instance, you can hang out with your family at home. You can talk to neighbors from the comfort of your front porch or back deck. These are good first steps to help maintain your physical and mental well-being during social distancing. Hang on to these tips:
1.Don't fill up on junk food.

During social distancing, it can be easy to give into stress, which can include binging on junk food. Instead, it's important to maintain a diet full of healthy fruits and vegetables, whole grains, lean proteins, and dairy products.
Fire up the grill and cook up some grilled seafood and roasted veggies. Or throw together a healthy salad filled with your favorite toppings and proteins. Just don't overdo it with cheese, croutons or salad dressing.


2.Keep up your exercise routine.

Although your regular gym may be closed during social distancing, you still can maintain fitness at home. You'll find many fitness videos on YouTube that range from Zumba and yoga to Pilates and cardio routines. In addition, many fitness centers are live-streaming fitness classes. Of course, you can always go 'old school' and make up your own routine of jumping jacks, push-ups, lunges, planks and other exercises that don't require a gym membership.
Bonus: If you are a stay-at-home parent or working from a home office, you can pepper your day with 5 to 6 10-minute bursts of activity instead of one longer workout.


3.Maintain your schedule as much as possible.

If your daily routine has changed drastically—for instance, you're now working from home with the kids underfoot—it may feel impossible to set and maintain a daily routine. However, creating and following a daily schedule and routine can help keep stress at bay and provide a sense of normalcy during social distancing. Craft a personal schedule that includes regular work hours, school work for the kids, time to exercise, daily chores, and time to relax.


4.Stay in touch with family and friends.

Despite social distancing, staying connected with loved ones is easier than ever. Call and chat with your best friend, FaceTime with your parents, and set up watch parties with friends. Although you may not be sharing the same space, you still will be spending valuable time together, which goes a long way in maintaining togetherness. Using today's technology is a great way to span distance without risking the spread of illness.


5.Limit time on social media and watching the news.

Just as today's technology can keep us connected to friends, loved ones, and coworkers, it also can have an adverse effect if we spend too much time on social media or watching the news. A constant stream of news reports—or worse, speculation—can create increased feelings of anxiousness or distress, which will take a toll on both your physical and mental well-being.
Don't be afraid to check in on social media or catch the latest news broadcast, but limit your time with those outlets to one hour a day to avoid increased stress.


6.Go outside for some fresh air and sunshine.

Social distancing does not mean staying sequestered in your home. Take time each day to go outside and enjoy some fresh air and sunshine. Relax in a porch chair and read a good book. Play with the kids in the backyard. You even can set out on a hike at a local park, or go kayaking in a nearby lake or river. As long as you're not in a crowd and maintain your distance, these activities will greatly benefit your physical and mental well-being, including a good dose of vitamin D. Just don't forget your sunscreen.



7.Don't forego self-care.

If you have a full household at home during social distancing, it can be easy to get caught up in taking care of the family at the expense of your own health. Make time for yourself each day to help reduce stress. Take a bubble bath after the kids are in bed, indulge in your favorite sweet treat after dinner, or binge on a couple of episodes of your favorite show. Essentially, take a mental break from daily life, and relax, if even for just an hour.